Capture and play those precious memories with Facebook's Moments app
Facebook's Moments app is a life saver for those who had many (read hundreds) of photos that were lying in wait in the camera roll. Now, the many pictures that you may have clicked with your friends or family can be easily uploaded and automatically made into a video replete with music.
The feature allows for a minimum of six images that will play as a tableau, with the option of allowing the user to add/ remove some of the pictures in it or changing the music as per the pre set options provided. Once your video is ready to roll, all you have to do is tap and the vid gets automatically shared with the friends who are already tagged (or face recognised).
How it works
The Moments app utilises the face-recognition technology, something which is already in use in the tagging option on Facebook. What's more, since Facebook already has your friend list at hand all it has to do is scour the camera roll in your phone and find the friends that are in your photos. It then allows you to sync the pics with the subject of the photo while also adding the photos to your friends' collection. Additionally, your friends will be intimated by a notification informing that their videos can be accessed via the Moments app. Keep in mind though that the videos cannot be shared via another app and can be viewed only through Facebook, perhaps that update will be added later on.
The Facebook Moments app has come at a time when there are a plethora of pictures lying around in people's phones, some of them which may be really old and back dated. Moreover, with time as a precious commodity it now gets easier to get your own pictures from friends versus the old route of reminding and begging your friends to share them with you. The app is useful as it comes with a nice feature of grouping pictures based on their date, time and place, so it's more convenient to share and play the memories thereafter.
Viral Video Sharing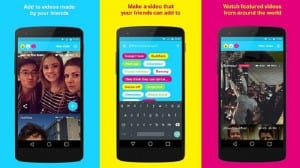 As it goes, video sharing and viewing on social networks has increased manifold over time and has attracted the attention of the big and mighty who obviously wouldn't want to miss an opportunity of cashing in on this trend. While trade pundits suggest that this number is somewhere upwards of 4 billion viewed videos per day, there are some others who think the numbers are only just growing now. The Moments app leverages Facebook's video advertisements feature, which its customers can additionally benefit from.
Being Founder & CEO of Open Designs India LLP. We are one of Chennai's premier Digital Media Agency since 2000, We work on Responsive Website Design , Internet Marketing, Social Media Management, E-commerce Applications & Mobile Apps.

We promise to cater to your needs with the best possible solution as we previously have for our clients for their Website and Digital marketing requirements. In the interim would like to take you through our company's journey.
For More Information Visit:
Web design and digital marketing company
Tags:
facebook moments app
moment app for iphone
moments app
moments app picture sharing
moments app video sharing