The world has turned into an unfriendly place for commercial retailers, especially for those who were waiting to make a break in 2020. With alternate lockdowns and relaxations, people are confused and are apprehensive about spending on anything apart from the bare essentials. But the economy cannot survive in this state. Things have been a bit better for those who have made it through, onto social media platforms. To facilitate their online presence, a lot of retailers have actually turned to E-Commerce SEO services to help make their brand have a better impact on the market and on people's minds.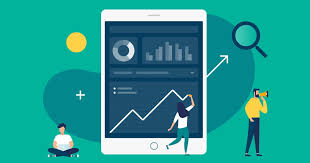 E-Commerce SEO Services:
When we talk about SEO, we are not only referring to finding out relevant keywords and incorporating them into your posts and websites. There is so much that can be done if you are willing to give it time and effort. Finding keywords that will garner consumer interest on your page is just the first step to E-Commerce SEO services. It involves broad data analytics that comes up with why your domain is not performing as expected, while your competition is. It reveals the reach of your posts and identifies the demographic that drives traffic into your site.
Gap Analysis
E-Commerce SEO services are well known for offering two of the most crucial services that help you plan your branding and marketing. The Competitive Gap analysis and the Keyword Gap Analysis. The Competitive Gap analysis helps identify where you are lacking or making mistakes on SEO, by analysing the gap between the current website performance, and the performance you wish to achieve. The Competitive Gap Analysis can also be used to compare against a Competitor's performance which can be set as a benchmark, whereupon it is termed as Competitor Gap Analysis. The Keyword Gap Analysis refers to the domains of competitors to find keywords that are actually bringing them traffic that has not come to your attention. The results of these two analytics give you an amazing advantage over others who may not be aware of, and, or those who have not understood the importance of these features.
The Cogs of SEO
The very basic focus of SEO is on the following 4.
Keywords
Search Volumes
Organic traffic, and
Lead Conversions
These 4 are executed through and in, optimizing the copy of the webpage or posts. This can include incorporating the keywords that are most relevant, seamlessly into the content. The content should be in such a way that it attracts the correct demographic. When the correct demographic is targeted, there is an increase in organic footfalls on the site and enhanced lead conversion as well.
Taciturn Titles and Enchanting Entities
Keywords and catchphrases apart, your titles, and the very copy that goes on your site should be unique. E-Commerce SEO services can connect you with a fresh perspective on your niche. Of course, there are sites where you can input your keywords and come up with topic suggestions, but there is no comparison to using trained copywriters. The quality of the content matters the most. The content must be conveyed in an intriguing way to pique the customer's curiosity and have them coming back for more.
Never make the mistake of using titles that completely hide the purpose of your post. Keep them simple, yet pose a question that people actually search for. E.g. The secret behind Melt in your mouth Chocolate. This would be a great content topic for a business that makes artisan chocolates. There's the right kind of keywords, with just the right amount of intrigue, and you can use this to draw traffic into your site.
SEO is perhaps the most cost-effective and organic method of putting your business on the map. If you are firm, looking to employ SEO services in Chennai, OpenDesigns is a Digital Marketing firm that offers strategic SEO services. We are one of the best SEO Companies in Chennai, with multi-level and customized packages in Branding and Marketing. Click on the <Envelope Symbol>, on the top right corner of our page, for inquiries
FAQ
To get started, a typical website will take 14 weeks from minimum from inception to the delivery stage. It could take much longer depending on your requirements. Discuss with your website development team to get an idea about the delivery date. Actively research the market and the best service provider to get it done professionally. Website development is one of the crucial aspects of your business on which you shouldn't compromise. Ensure that you get regular updates from your development team to make sure everything is executed as per the schedule. There are chances that conflicts might arise which may compromise the overall development process, you should be prepared to tackle the situation and get things done in a smooth manner.
Breadcrumbs are nothing but a secondary navigation system that can be used to learn about the user's location on a particular website. Visitors can get a better idea about the webpage if they have an overview of the hierarchy on the website. They serve as an effective visual aid that represents the location of a user within the website. It is not a complex mechanism on websites and will up only a line on your website. One of the main advantages of breadcrumbs is that they do not have any negative impact on your website in terms of content overload. If you have a large number of web pages piled up on your site, you must incorporate breadcrumbs into your site.
Google Sandbox is a common term that is used to explain the lower rankings of new websites in the Google search results. The function of Google sandbox is to provide results that are highly relevant to the users. Filtering out new websites and constantly monitoring them helps the search engine to provide relevant results. Moreover, it is difficult to say how long a website will be inside the sandbox as it primarily depends on the types of keywords it will be competing against. If your website has high-quality and relevant content, then the Google sandbox shouldn't be a huge problem for you. The ultimate aim should be to optimize the website to stand out from the crowd.
Accelerated Mobile Pages is an open-source project that is designed to optimize faster mobile pages. To break it down into simpler terms, it is making a page loading faster that is already optimized to be mobile-friendly. You have to use a streamlined version of CSS if you are opting for accelerated mobile pages. The website must be validated properly on a regular basis to ensure that they work properly. If you are looking to offer a better user experience, incorporate custom fonts into it and declare the proper height & weight of the page to avoid quirky-loading images. Accelerated mobile pages can significantly reduce the overall bounce rate on your website and improve conversion rates for your business.
SEO marketing is the process of increasing both the quality and quantity of website traffic. All this results in increasing the exposure of the business to the right target audience. SEO is that one marketing tool that holds the potential to pay dividends over time continuously. If you have content that is strong and has every reason to rank at the top, you need not invest in other marketing tools and techniques to increase the visibility of your website. It is because of this that SEO marketing plays a pivotal role in growing your business. Therefore, optimizing your site in a manner that shows up within the top search results is critical.
How good your website is has a lot to do with the business you generate at the end of the day. Here is why website development is important.
The first impression of your business is the website. If your website is outdated, the impression of the business left behind is definitely not what you'd want.
By looking at how well the website is developed, the customers get a fair idea of how they would be treated by the business. If the website is not worked upon well, they tend to believe that the business won't take efforts in catering to the requirements of the customers as well.
A well-designed website enables the audience to build trust with the business.
A poorly designed website has an adverse impact on Search Engine Optimization (SEO).
In order to make it into the list of good websites, there are a couple of things that one needs to take note of.
A good website doesn't take much time to load.
A website that is trustworthy – both in terms of content as well as technicalities is the most sought after.
The website should be free of bugs.
Make sure that your website caters to a specific goal/objective.
For a website to reach out to the maximum, it is important to understand the target audience in-depth, right from what they need to what other websites do they use.
Making use of the right words, font and style always help.
There is no specific best SEO tool, but here is a list of SEO tools that all the experts are using in 2022.
Ahrefs – SEO keyword tool
Google Search Console
SEMRush – Marketing tools for SEO
KWFinder – SEO keyword tool
MOZ Pro – Complete SEO software
Ubersuggest – Keyword Tracking tool
Answer the Public – Keyword association tool
Woorank – SEO Ranking Tool
Majestic – Marketing tool for SEO
Google Trends – SEO trends checking tool
SEO Quake – Free SEO audit tool
Siteliner – SEO analytics tool
Fat Rank – SEO ranking tool
Screaming Frog – SEO audit and insights tool
Serpstat – One stop SEO platform
Although there are tools available in plenty, you will need SEO experts to use them effectively. Get yourself a Digital Marketer that can provide custom solutions to your SEO needs.
There are several ways to increase and divert traffic to your website. Listed are a few that you might be interested in.
Invest in some paid advertising that will guarantee you results.
Open Social Media accounts and post attractive content regularly.
Use attractive titles that make browsers want to open the link.
Review and up your on page SEO game.
Target long tail keywords with colloquialisms for each customer location.
Indulge in some guest blogging that will build external links
Strengthen internal linking to subtly encourage more customer interaction.
Make your site responsive to be accessible on all devices.
Improve site loading speed to reduce abandonments.
If you are an E-Commerce site, post clear and attractive product images.
SEO is one of the most effective and inexpensive ways to boost traffic to your site. It can open the gateway to new customer pools, even on a global scale. The top SEO trends of 2021 are,
Core web vitals : Loading, Interactivity and Visual Stability
Google's BERT: Using Machine learning and natural language processing for intent matching.
Keyword research: To identify high ranking keywords.
Original content: Value adding content that attracts traffic organically.
Voice search: Voice activated searches that include colloquialisms in global languages.
Artificial intelligence: Using AI to personalise the customer journey.
Video marketing: For visitors to better relate to the brand with audio visual stimulation.
Featured snippets: Elevate reputation of the business with features snippets on Google.
Influencer SEO: Partner with social media influencers to get their following as customers.
EAT & Branded SEO: Build expertise, authority and trust by building brand awareness.
For anyone who wants to implement digital marketing for their business, Search Engine Optimisation or SEO as it is commonly known should be the first priority. It is more than the misconception of just adding keywords to your content. When done right, SEO can do the following for you.
Send quality traffic your way.
Boost the business reputation
Get results with inexpensive methods
Increases customer engagement with the site
Help you understand your customers
Help you beat the competition
Continuously evaluate and boost performance of the site
SEO is important regardless of whether your company is old or new, successful or struggling, or going through a much needed brand makeover. SEO is an organic and agile process and can be implemented at any stage.